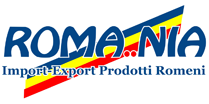 Roma..nia is a company located in Rome, Italy and is importer and distributor of exclusively Romanian products. With a turnover of around 17 million euro recorded in the year 2012, it owns its own distribution network and the largest repository of Romanian food from Italy, with a total area of 3,000 square meters. Due to the increasing volume of work, managers have decided to implement an integrated business management solution, made up of the following systems: ERP, Business Intelligence, SFA and WMS.
"In the activities undertaken by our company, is important not only to have a computer system, but to have a very good computer system. This was one of the reasons why I chose to start Senior Software implementation, hoping that we will get a solution that will fold perfectly on our needs. I also wanted a soft that is at the same time complex, but easily to manage and operate by our representatives.
The reasons why I chose a Romanian solution were first the recognized quality of the software developed in Romania, and secondly a better communication that we can have with a partner who is able to better understand our needs."
Said Mr. Florin Simion.
Some of the advantages obtained shortly after the implementation are the following:
Interconnection of all operations performed in the company
Automatic calculation of prices directly on documents
Easily delegating tasks to the sales representatives
Establishing and tracking the route that each sales representative has to carry out daily
Real-time access to data about the stock
High visibility to the activities of the employees of the warehouse