The implementation of a business management systems, and subsequently, their proper functioning, represents a long-term process which cannot be successfully accomplished without good communication between software supplier and client.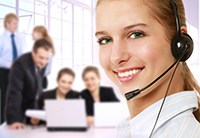 The need to readjust the software after implementation stage is a scenario that needs to be taken into account, the causes being among the most diverse:
legislative changes;
modifications in the activity of the organization;
personnel migration;
expansion or restriction of the company's activity, which leads to the need for workflow reconfiguration;
technological platform changes;
Thus, the quality of the support services received from the software provider becomes an essential criteria for maintaining the level of satisfaction of the initial implementation.
The remote communication between the software provider and the client is made quickly by email or phone, and interventions upon the system can be carried out online through a dedicated VPN connection. For more complex problems the company can benefit from the Customer Care service, which involves the delegation of a responsible person to the client's premises.
This type of support translates into multiple advantages for the client:
Elimination of geographical barriers;
Ability to communicate quickly with the supplier;
The requirements sent to the support department are monitored and resolved within a predictable time, according to the contract concluded;
Connections via VPN service are done under maximum security conditions;
The legislative changes come under the care of the software provider, so that the beneficiaries do not have to interrupt their activity;
Another advantage of the companies that choose a software provider with national references is the much richer expertise and an accelerated growth of the system in resonance with the client portfolio.