The implementation of a business management system has become quite a controversial topic both among the beneficiaries and software providers. The emergence of "successful recipes" or countless case studies, be they negative cases or happy ending implementations, creates confusion among users and potential beneficiaries of a business management system.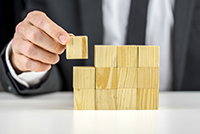 On one hand, the benefits listed by software providers determine companies to rush into the acquisition of a software system without taking into account the particularities of their own business, and on the other hand there are a few cases where the implementation process was on the verge of failure. Thus, there are many who purchase such a solution at the last moment, when the internal pressure become too high, transforming the necessity of a business management system into the burden of a system implemented too quickly, not tailored to the real needs of the client.
There are at least two elements that, if fulfilled, can help avoid of such unwanted scenarios:
Business analysis, in which the software provider has a duty to clearly understand the business flows of the beneficiary's company and decide if and how the client can help by implementing the business management system.
Awareness of the factors that directly influence duration in the process of implementing a computer system
The number of users and the complexity of the business increase directly the duration of implementation;
The modules selected for implementation influence both number and complexity; for example, the completion of the accounting module implementation depends on the end of the accounting month and the submission of mandatory statements required by the state;
The level of customization desired by the beneficiary. Critical customization must be delivered before go-live, so that there is no risk of blocking the client's activity. The remaining customization can be delivered later. It is vital for the client to understand the need to prioritize the requirements correctly.
Availability of beneficiary to allocate resources for the implementation period; for example, during the training period, the company staff will have to rotate to participate in a certain number of training hours;
Assigning a project manager from the client;
Preparing the beneficiary; when the date of implementation has been set, in order to avoid any delays, the client must have prepared the IT infrastructure or other elements established in the business analysis stage.
Involvement of company management in the project. Within an implementation, there are situations that may require quick decisions and with major effects in the organization of the company. It is important that management be aware of the status of the project, understand the requirements and be proactive. Project managers need to be given all the support they need.
Knowing these factors is beneficial for the potential client because he can materialize his expectations regarding the period of implementation of a business management system.