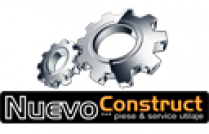 Nuevo Construct has implemented the ERP system from Senior Software in order to increase productivity and efficiency in the market of spare parts for construction equipment. The company operates since 2004, and in 2009 it founded a service department that covers the entire country.
"At the beginning of this year we decided to make an important step for the company's development, through the purchase of an integrated software solution that would help us migrate the accounting service on a last generation software platform, and substantially improve the management of our commercial activities."
Said Mr. Adrian Sabau, Owner of Nuevo Construct.
Some of the reasons for which Nuevo Construct has chosen the integrated ERP system from Senior Software are:
The latest generation of technological platforms and an user-friendly interface
Adaptability to the company's specific and flexibility for future changes
Constant software updates according to the ever-changing legislation
The customers that successfully use the application at the present time
For the near future, the company is planning to extend the capabilities of the SeniorERP system by implementing specific solutions for analysis and reporting: SeniorVisualBI, customer relationship management: SeniorCRM and online sales: SeniorE-commerce.